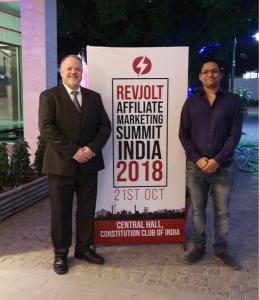 The much awaited revJOLT Affiliate Marketing Summit India took place on Sunday 21st October, 2018 at The Constitution Club in New Delhi. The event was a huge success with over 100 eager affiliates both new and experienced attending.  First things first, India is awesome and the hospitality from its people made it even better. They are world leaders in Internet Technology and very hard worker
The event was graced by top notch affiliate marketers and what an awesome event it was for affiliate marketing enthusiasts in India who got the chance to meet with their mentors and role models. The summit registered a good turnout and attendees got the chance to meet and interact with the founders of revJOLT and international team members.
During the summit, the speakers shared what revJOLT is all about.  Having been started in 2018 as a partnership between our proprietary exchange platform and the existing publisher network, the founders were keen to expand on the company's mission, growth and share their new affiliate offers.
Some of the services that were highlighted during the summit include the popular Payday and Instalment loan verticals and the fact that we have since expanded to support other notable U.S. ping/post verticals like health insurance, auto insurance and home improvement services.
The best thing about affiliate marketing is that you get to become your own boss and can work entirely from the comfort of your own home.  The attendees were thrilled to realize that they were not limited by boundaries when it comes to this business as it can be done literally anywhere. With the contacts and networks made during this summit each attendee went home with the optimism that they are starting a journey that will bring them one step closer to financial freedom.
Some of the notable topics tackled during the summit include:
How to start your own affiliate business
Updates on the latest tech developments
Advice on additional verticals that can help you spread your wings more and expand your earnings
The notable speakers at the summit were:
Tony Peck – Co-Founder and CEO
Pritish Kumar – Co-Founder and CMO
Charmaine Thring – Director of Business Development
Maria Verdanega – Senior Affiliate Manager
After the conference at the hall, we hosted a fireside chat where both founders and attendees engaged in valuable networking. Here, everyone was free to ask questions and this became an eye opener for most attendees who were willing to join the revolution. This was later followed by a delicious buffet dinner for all in attendance.
We were very happy to be in India but equally thrilled to have the chance to visit most of India's most popular attraction site, the Taj Mahal. Our engagement with the locals who are eager to learn re-ignited our zeal to introduce Affiliate Marketing to all the attendees who saw this opportunity worth investing in.
We look forward to the new affiliates signing up and starting to promote our latest offers and profiting from them.
Exclusive USA and All GEO.
Many Verticals Multiple Offers.
Highest Converting ROI.
Various Kinds of Traffic Accepted.
revJOLT Affiliate Network Sign Up
Advertiser Sign Up: revjolt.com/signup-networkadvertiser
Publisher Sign Up: revjolt.com/signup-networkpublisher
revJOLT Lead Exchange Network Sign Up
Advertiser and Publisher Sign Up: revjolt.com/signup
For more info contact:
[email protected] / Skype: pritishkumar3
[email protected] / Skype: live:claudia_13995