Should you ever use mobile pop ads to generate affiliate traffic?
The mobile popup (or popunder) ad is the unruly little brother of regular online display advertising. Often used in misleading or downright illegal ways, it's got a lot of cellphone and tablet users irritated.
But can there ever be an acceptable way of using this advertising format? Let's find out.
What exactly is mobile pop advertising?
You might be browsing on your cellphone for something like a movie on a streaming site, and click a link. Then a new tab opens up on top (pop-up) or underneath (pop-under) your current browser window. It offers you something like a "free sweepstake" or to "click for an unclaimed prize". These ads are often annoying, bogus, and hard to get rid of.
The pop-under type is often unnoticeable until you go through your mobile browser tabs and find it, lurking there. This can either serve as a timely reminder that you really did need that product or service or be a confusing "WTF?" moment.
This is called "Interruption marketing" – people weren't looking for this ad and it can get in the way of the content they really want to see.
So should you avoid this at all costs as a lead seller?
The trouble is, mobile advertising is a great source of traffic. Mobile devices first outstripped desktop as a source of internet usage in 2016.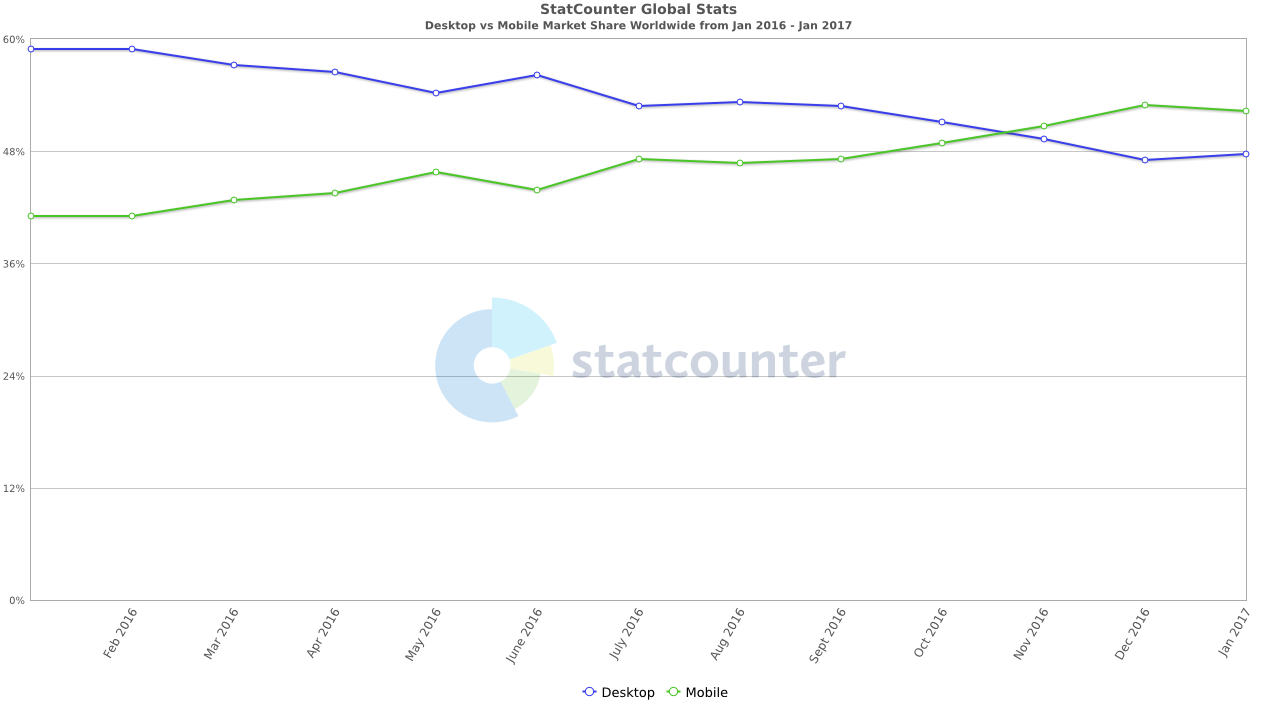 Source: StatCounter Global Stats – Platform Comparison Market Share
Pop traffic is also cheap, and you can get your ad in front of thousands of people for a much lower price than, say Facebook or Google AdWords. So ruling it out as a strategy might be depriving yourself of revenue.
This type of display ad is a CPA (Cost per Action, or Cost Per Acquisition) model. Every time someone clicks through to sign up on a lead gen site, there is money to be made. The more actions, the more you make against the cost of putting up these ads.
As always, I emphasise ethical marketing. In my opinion, you can make mobile pop work without being a total pain.
Where can you start creating mobile pop advertising?
Look for an advertising platform with the technology to drive this kind of CPA campaign. Like
to name just three. Try using "mobile display advertising networks" as a search term.
Other setup tasks you need to do
You need a landing page once people have clicked the ad. Like with an email marketing campaign, how you design this can be just as important as the pop ad itself. If you are using this as a lead gen affiliate niche, you must capture the right amount of data without putting off your prospect with a tiresome form.
So, when can you make this form of advertising work out?
Make your ads relevant, honest, and valuable to the viewer. Don't use false claims, pretend prizes, or adult images to try to sell your lead gen to people, because that's short-term thinking that only leads to your ads getting banned from whatever network you chose.
Make your offer chime with what they were reading. For example, if I'm reading a New York Times article about politics, I don't necessarily want an ad popping up offering me a free prize. People are too smart for that. BUT if I'm reading an article about ways to save money, I might very well be interested in a financial product like a payday loan, or auto insurance.
It's worth being aware that there are pop-up blockers for mobile coming in to browsers and apps for your cell. Soon, it might be hard for your pop ad to be seen at all. So, I would never recommend it is your only strategy.
But whatever you decide, always make sure to measure your results!
If you're looking for a lead gen marketplace, sign up for revJOLT's stateof-the-art program!